EXTÉRIA, s.r.o. – professional services in OSH and Fire Protection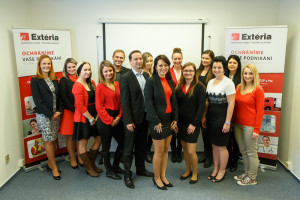 The brand of EXTÉRIA has been operating on the market of the Czech Republic since 2011. In 2016 it started to operate on Slovak market. It started to develop and build its activity in Ostrava, where has prevailed among a great competition, thanks to the unique KNOW-HOW. On this basis has developed a patented and protected franchise concept of EXTÉRIA consulting offices of OSH and fire protection, which operate throughout the Czech Republic and therefore has become a leading, professional and specialist company in the Czech Republic.
Whole concept, the brand of EXTÉRIA and KNOW-HOW are protected by Industrial Property Office within the whole European Union.
EXTÉRIA is a proper member of Czech Franchise Association and a regular partner of International Exhibition for Business and Franchising organized in the Czech Republic and Slovakia.
Furthermore, our company is trying to establish a cooperation with universities, where we want to support the education of students in a form of scholarships and providing professional experience during studies and jobs to absolvents within the Czech Republic and Slovakia.
The main objective is to provide outsourcing in the legal area of OSH and fire protection from small admins of self-employed person, through the state administration to the large industrial companies. We also provide our services in the area of OSH and fire protection in education, healthcare, network franchise concepts.
The philosophy of our company is a long-term cooperation in order to "protect businesses and government institutions from sanctions by state inspection authorities. "
Our employees are professionally qualified persons in risk prevention according to the Law no.309/2006 Coll. in OSH and they are fire protection engineers, according to the Law no.133/1985 on fire protection. We have all the necessary certificates issued by TUV SUD Czech, s.r.o. and the Ministry of Interior.
Complex outsourcing in the area of occupational safety and fire protection
The main activity of the company is to provide our clients with complex and long-term outsourcing in the area of occupational safety and fire protection, according to applicable legislation.
We offer processing of all documentation in the area of OSH and fire protection, according to applicable legislation, professional training of employees and management in the area of OSH and fire protection, fire hazard assessment incl. integration, consultancy in the area of OSH and fire protection, sale of warning signs, fire extinguishers. Revisions of electric appliances and electric installations of the buildings by external suppliers.
Representing of clients during inspections of state technical supervision – we always vindicate our work (documentation)
Representation of our clients by a person with professional competence in risk prevention, technician of OSH and fire protection during inspections of state professional supervision, which are the Labor Inspectorate (LI), Fire Brigade, Regional Health Authority (RHA), is entirely unique service.
Regular service
Our company doesn't offer just consultation and nonbinding checks of the workplaces, as is always usual.
Employees of the company will visit client's workplace, where will carry out an inspection activities and warn about shortcomings. They will implement entire agenda into a system that monitors the dates of individual trainings and revisions. They also cooperate on troubleshooting. Administrative agenda is held in the headquarters and branches of our company. We process complex documentation of OSH and fire protection, according to operating activities of our clients. Its updating in coming years is totally free.
We are one step ahead of the legislation
Our company since its establishment has employed its employees with indeterminate duration. Currently it is sixteen employees with employment with indeterminate duration and 5 with secondary employment (for revision activities).
Technical and material base of the company, constant training of our employees with professional potential of knowledge of all regulations, norms and laws, creates prerequisites for quality and professional work.
Internal control system reduces the possibility of error and poor quality of work to a minimum and the knowledge of individual employees creates enormous potential of knowledge, which is available to our clients. In these respects, the results of our company are incomparable to the work of the companies of "living-room type".
Our employees are regularly sent on training in the area of OSH organized by Labor Inspectorate and ROVS – educational service of Roznov for the area of OSH and fire protection.
A big number of references
Our company has more than 4 700 satisfied clients in various business areas (administration, production, services, medicine, constructing, supermarkets, telecommunications and IT, transport and storage, etc.). Furthermore, a number of state-funded organizations such as kindergartens, primary schools and local, municipal and county authorities. Our references grow every month and our companies we help grow too.
We believe that any cooperation with our company will be advantageous for you.
Extéria, s.r.o.